As a business owner, you understand that employee benefits are an important tool used by employers to attract new employees and retain experienced employees. 
Today, top employees demand a comprehensive health insurance plan. In fact, in a 2016 Canada health survey, 77% of respondents say they wouldn't move to a job that didn't include health benefits. 
Chambers Group is Canada's #1 Employee Health Benefits Plan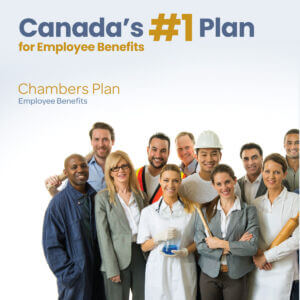 By providing your employees financial protection as well as fast and easy claim reimbursement, you can find and attract the best employees. The Chambers of Commerce Group Insurance Plan® can offer you a truly flexible benefit solution based on what's best for you and your employees.
The Chambers of Commerce Group Insurance Plan is Canada's largest group benefits program, with over 33,000 businesses across Canada participating — making it Canada's #1 employee benefits plan for small to medium-sized businesses.
Chambers Plan can offer your business a truly flexible solution based on what's best for you and your employees, with comprehensive group benefits, including Health and Dental insurance, making it Canada's #1 employee benefits plan for small business.
The Chambers Plan is EXCLUSIVE to Chamber Members and is an illustrious benefit available for members only.
Thousands of businesses join the Chambers Plan each year because it's the simple, stable, smart choice for their business: combining accessibility, flexible options, and pooled benefits.
Firms continue to choose Chambers Plan year after year because it offers unsurpassed value and customer service.
Chambers Plan is a benefit plan that is much more than health insurance.
The plan offers a full range of employee benefits, including the following:
Dental Insurance
Health Insurance
Disability Coverage
Critical Illness Insurance
Life Insurance
Each benefit also comes with a comprehensive list of alternatives, so the benefits you choose fit your company.
The following services are also included in each group benefits plan at no additional cost:
Business Assistance
Teledoc™
Hugr Authentic Connections
Accessibility & Flexibility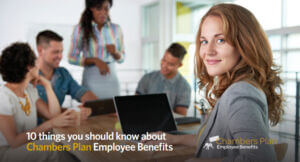 The Chambers Plan was specifically designed with the products, services and administration tools to match the needs of today's small businesses. With more than 30,000 firms insured under the Plan, it is the most popular employee benefits program in Canada for small to midsize businesses.
With three or more employees, there are no medical questions, and everyone is automatically approved for full coverage that kicks in on the first of the month. The Chambers Plan also has coverage for one and two person firms including guaranteed issue options with no exclusions for pre-existing conditions.
Chambers Plan offers both fully pooled and partially pooled options. With fully pooled plans your rates are not impacted by your claims experience. This creates predictability and stability for your business.
There are no industry restrictions, and all for-profit businesses are eligible while they are members of a participating Chamber of Commerce or Board of Trade.
The Chambers Plan's innovative offerings and proven rate stability allow you to provide a comprehensive benefit plan to fit any budget.
Contact Your Chambers Rep
Speak with an advisor today to discover how Chambers Plan group benefits can make a difference in your business — and your employees' — lives.
ryan@iglbc.ca